After sharing with you my favorite enriched dough, it was time to try some nut rolls out of it. And what should I say… we love them!
I baked the rolls on a sunday and after cooling down I froze them (I baked them in a glas pan which has a lid). On Thursday some friends came to visit… and thank God I thought about the nut rolls! I placed them directly in the oven at 150°C. In the meantime I prepared the sugar glaze. After 15 minutes the whole house was smelling deliciously and we enjoyed the nut rolls warm out of the oven. Very convenient and everyone was delighted!
Veganize the recipe
This recipe is very easy to modify to be completely vegan. As it does not contain any eggs already, you simply need to change the butter through a vegan alternative. Done!
Cold or warm bulk fermentation
This enriched dough works as well with warm fermentation at room temperature as well as with retarded fermentation in the fridge. This means that depending on when you would like to enjoy your nut rolls you can choose either one or the other way. I have however noticed that the option with the retarded fermentation in the fridge is a bit fluffier and more aromatic.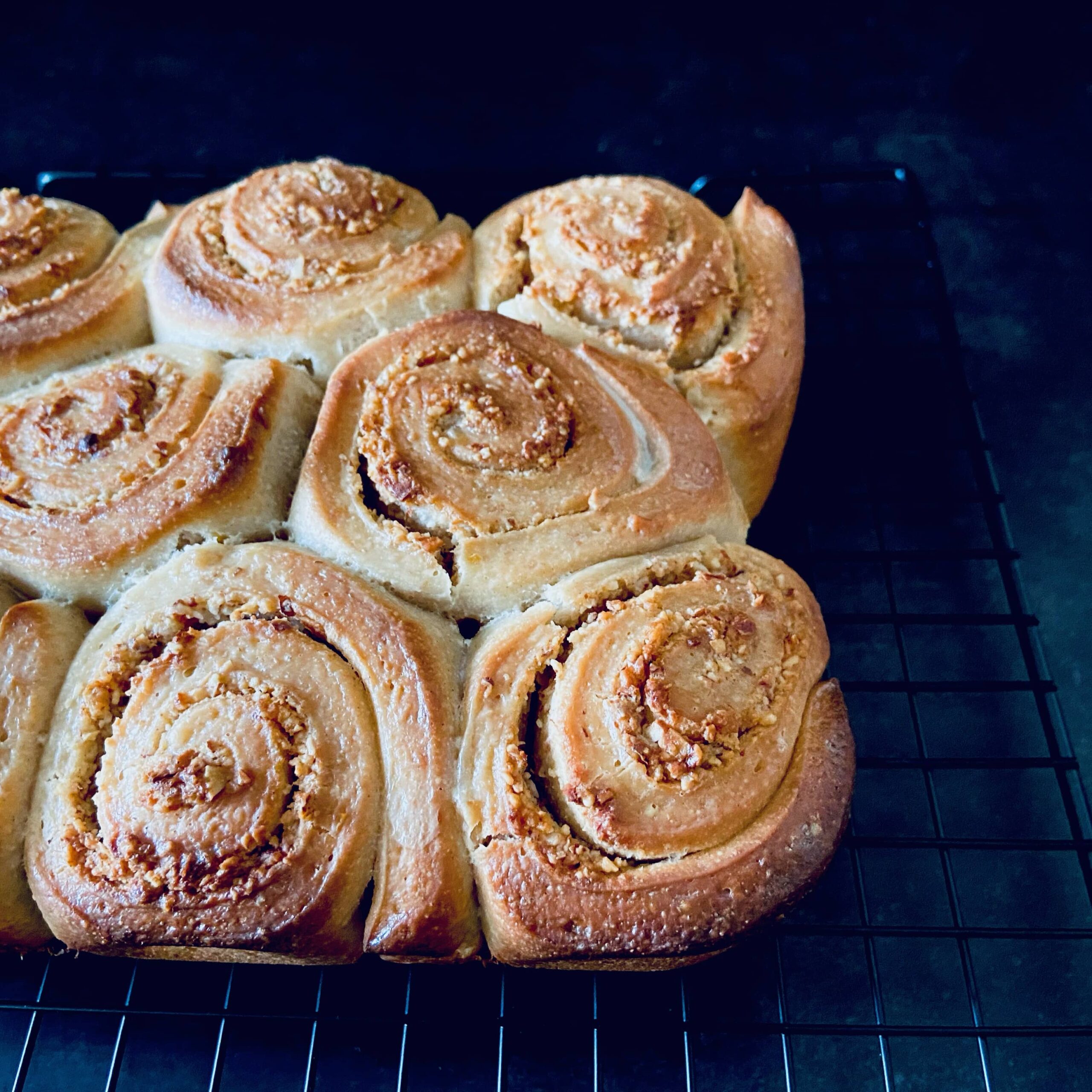 A couple of pictures before the final fermentation
I could take a couple of pictures of the rolls immediatelly before baking them. I find fermentation very fascinating!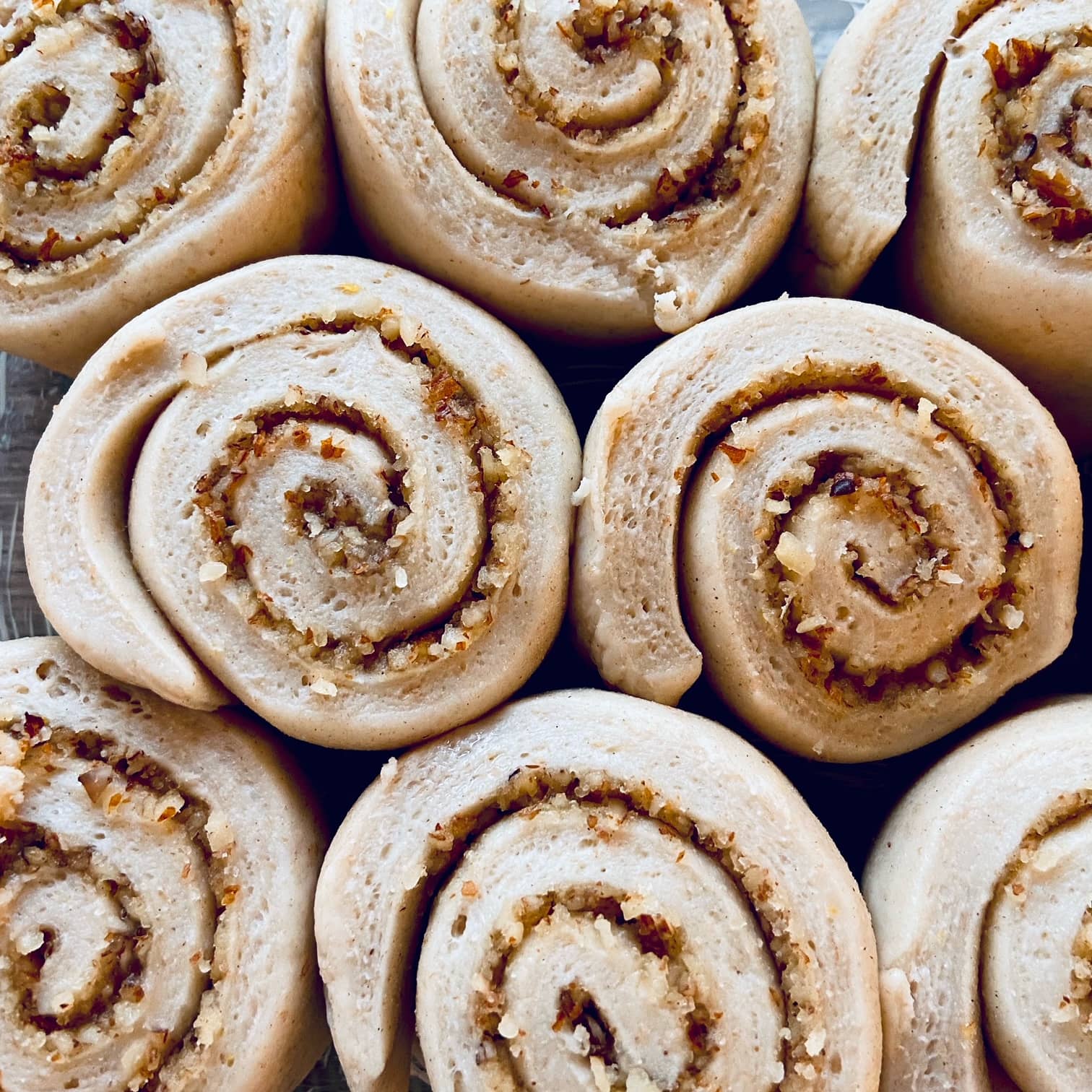 Time schedule 1
 Day before
15:00h Feed sweet sourdough & prepare flour custard
18:00h Knead main dough
21:00h Place main dough in the fridge
 Baking day
07:00h Shape rolls & place in baking tin
09:00h Bake rolls
 Time schedule 2
 Baking day
08:00h Feed sweet sourdough & prepare flour custard
11:00h Knead main dough
15:00h Shape rolls & place in baking tin
17:00h Bake rolls
Nut rolls made of spelt enriched dough (egg free)
Nut rolls have something warming, that makes you feel like you are in autumn. And this is mainly due to the aroma of the nut-mix, butter and cinnamon. If you want you can simply add a frosting on top to make them even more heavenly. Afterwards simply enjoy!
Ergibt:
10
nut rolls (400g dough aprox.)
Zutaten
Sweet sourdough
53

g

white spelt flour

53

g

sweet sourdough starter @ 46% hydration

or use your Lievito Madre

10

g

sugar

24

g

water
Flour custard
26

g

whole spelt flour

80

g

milk
Main dough
sweet sourdough

milk custard

53

g

whole spelt flour

132

g

white spelt flour

62

g

milk

5

g

fresh yeast

21

g

salt

50

g

butter

14

g

sugar

vainilla

(optional)
Nut mix
30

g

butter

50

g

almonds

ground

1/2

tsp

cinnamon

6

g

brown sugar
Zubereitung
Sweet sourdough
Mix sweet sourdough starter and sugar with water and add flour. Knead into a ball and place in a clean glas.

Let proof about 5 hours at 28°C. The sweet sourodugh should be active and have doubled in size.
Flour custard
For the flour custard cook the flour and the water together in a pot on medium heat until it reaches the consistency of a pudding. Use a spoon to make sure the custard does not burn on the bottom.

Let covered to cool at least 4 hours. If you prepare it the day before, keep in the fridge.
Main dough & Bulk fermentation
Knead all ingredients together until you can do a window pane test. When kneading spelt it helps to make some pauses in between kneading ("interval kneading").

OPTION 1: The bulk fermentation takes about 4 hours at a room temperature of 23°C. The dough should at least double in size, fill full of air and not have started deflating yet.

OPTION 2: Your can also place the dough in the fridge over night after proofing it for about 3 hours at room temperature (dough has nearly doubled in size). If you choose this option, please let the dough come to room temperature for about 30 minutes before continuing with the next step.
Nut mix
For the nut mix start melting the butter. Let cool a bit. Then add ground almonds, cinnamon and sugar and mix until well combined.
Shaping nut rolls
Roll the dough in a rectangular shape.

Then spread the nut mix leaving a free edge...

The best way to cut the rolls is by using a piece of yarn. When using a dough the rolls usually get pressed together. Place nut rolls in a buttered tin or glas pan.
Final fermentation
The final fermentation takes 1,5 hours at room temperature (23°C). The nut rolls must double in size. It is important to make sure that they do not dry out, so cover or place in the oven while off.
Bake
Brush nut rolls with milk before baking.

Bake at 230°C (convection oven) and then reduce to 210°C without steam until you like their color. It can take between 20 and 30 minutes.