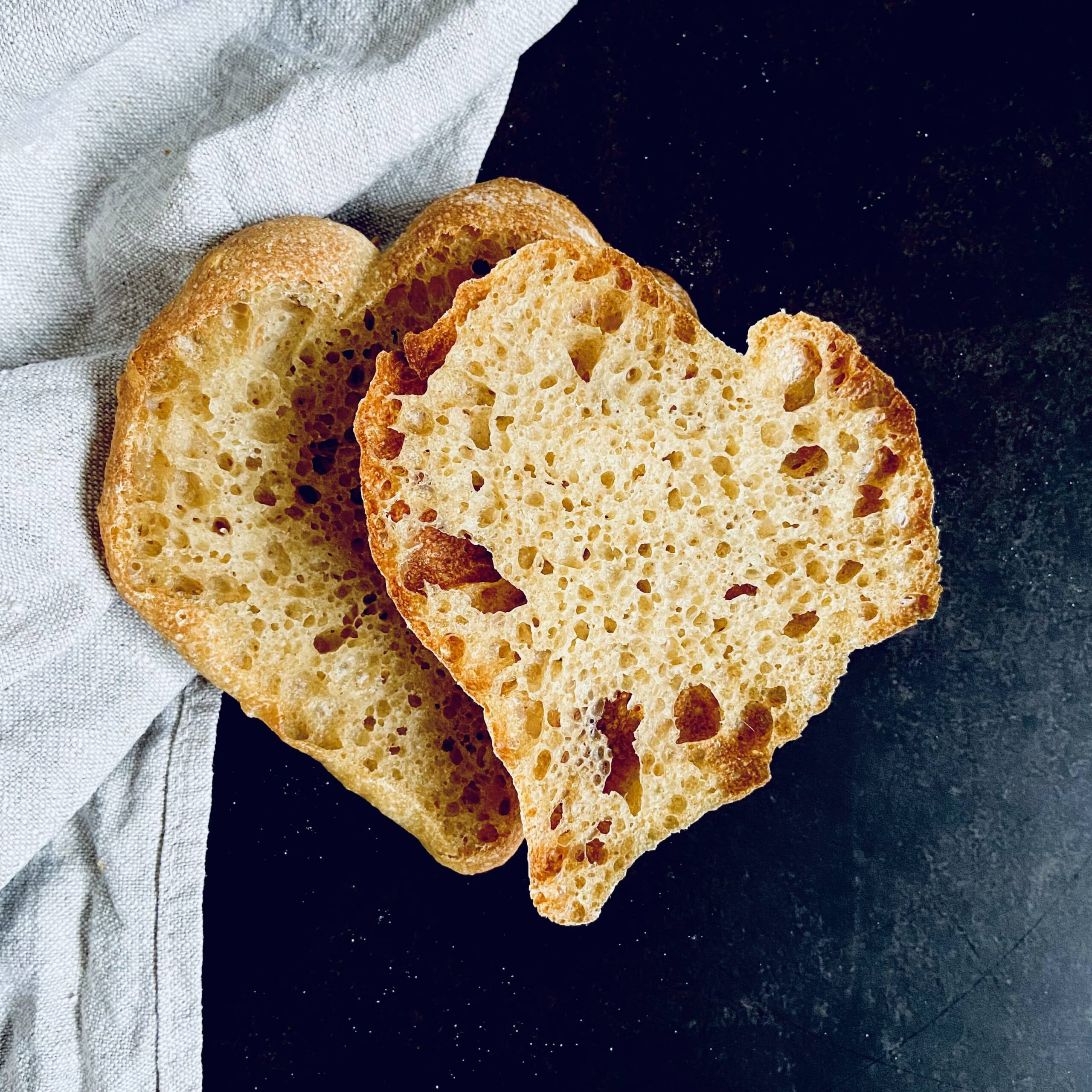 For my first Ciabatta recipe I wanted to create something special. I knew from the beginning I wanted to use only one ancient grain for it. But which one? At the end I decided to use "Gelbweizen" (yellow wheat). When writing the recipe I could already imagine the color of the ciabattas, their taste and their lighliness.
I have chosen to place a relatively high amout of flour in the poolish (20%), where the complete amount of whole flour gets soaked and prefermented. I have decided not to use sourdough for this one.
Cold bulk fermentation, warm final fermentation
As the dough is very soft, it is easier to divide it when cold. I tought also that a complete warm fermentation could be somehow more difficult to stop when wanting to bake and could end up with an overfermented dough.
Bake very hot
When baking ciabatta is it very important that your oven is very good preheated. If not you will not get enough oven spring and the crumb will be small on the bottom.
How much water should I take?
I have written in the recipe the amout of water between 75% and 85% hydration. I tested different yellow wheat flours and found out they absorve a different amount of water. I would therefore advice you to start with 75% hydration and add more water a bit at. atime. It is important that you can still develop the gluten. If you happen to add too much water at a time (what happened to me when testing the recipe) add some bread crumbs or psyllium husks.
I hope you enjoy my yellow wheat ciabattas!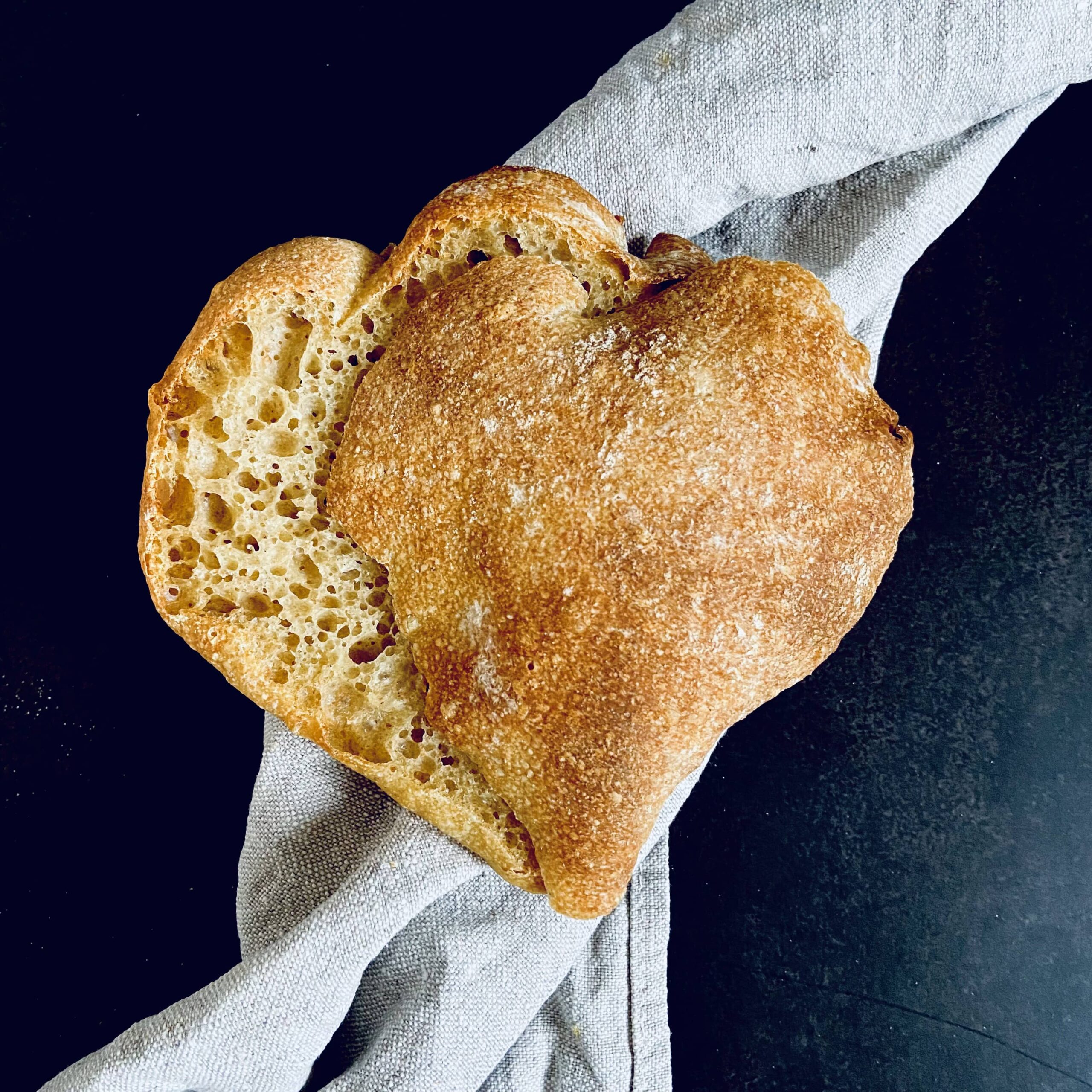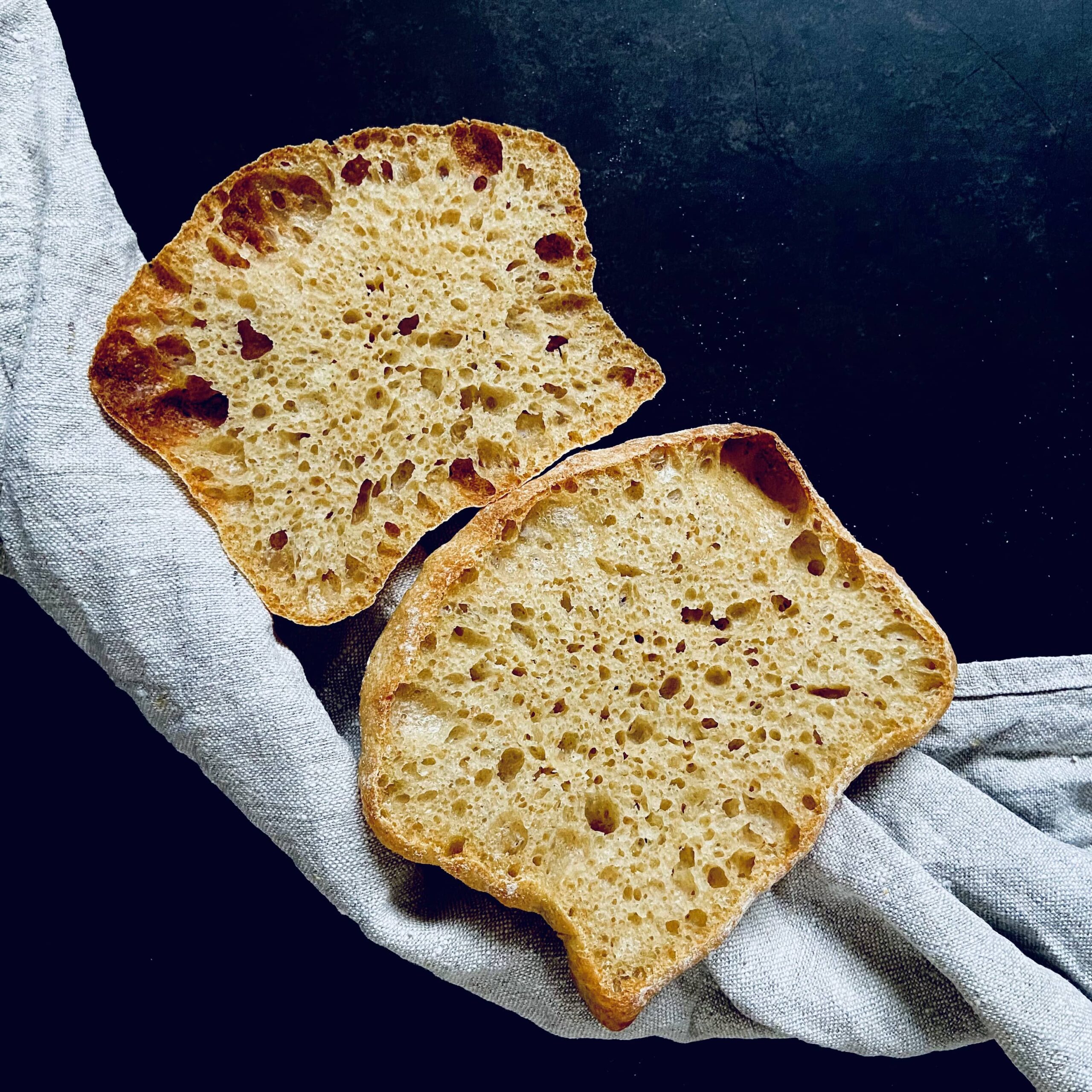 Time schedule
 Day before
07:00h Prepare flour custard & poolish
09:00h Place poolish in the fridge
18:00h Knead dough
20:00h Place dough in the fridge
 Baking day
08:00 Uhr Divide ciabattas & bake
Yellow wheat ciabatta
Airy, light and very tasty. For this ciabatta I decided to use 100% of an ancient grain called Gelbweizen (yellow wheat), with 20% of it as whole flour for more taste.
Ergibt:
9
ciabattas à 95g
Ingredients
Poolish
100

g

whole yellow wheat flour

100

g

water

1

g

fresh yeast
Flour custard
15

g

white yellow wheat flour

75

g

water
Main dough
Poolish

Flour custard

385

g

white yellow wheat flour

200-250

g

water

15

g

olive oil

2,4

g

fresh yeast

12

g

salt
Instructions
Poolish
Mix all ingredients together and place in a glas. Let ferment at room temperature 1-2 hours until you see it starts to grow.

Place in the fridge about 12 hours.
Flour custard
For the flour custard cook the flour and the water together in a pot on medium heat until it reaches the consistency of a pudding. Use a spoon to make sure the custard does not burn on the bottom.

Let covered to cool at least 4 hours. If you prepare it the day before, keep in the fridge.
Main dough
Knead all ingredients together except the salt and let rest 10-15 minutes.

Then knead further until you can do a window pane test. Add the water a bit at a time. If you see that your flour is not able to keep more water stop.
Bulk fermentation
The bulk fermentation takes 1,5-2 hours at room temperature. After 30 and 60 minutes do a stretch & fold. The dough should have nearly doubled in size and fill full of air.

Then place in the fridge over night.
Final fermentation
Place the dough on the floured counter. The dough should be good fermented and be stable enough to handle it.

Divide the dough into ciabattas and place on a baking paper. Let rest about 30 minutes until the oven is heated up at 250°C.
Bake
Bake the ciabattas 12-15 minutes at 250°C with steam. Then let the steam out and bake anther 12-15 minutes.