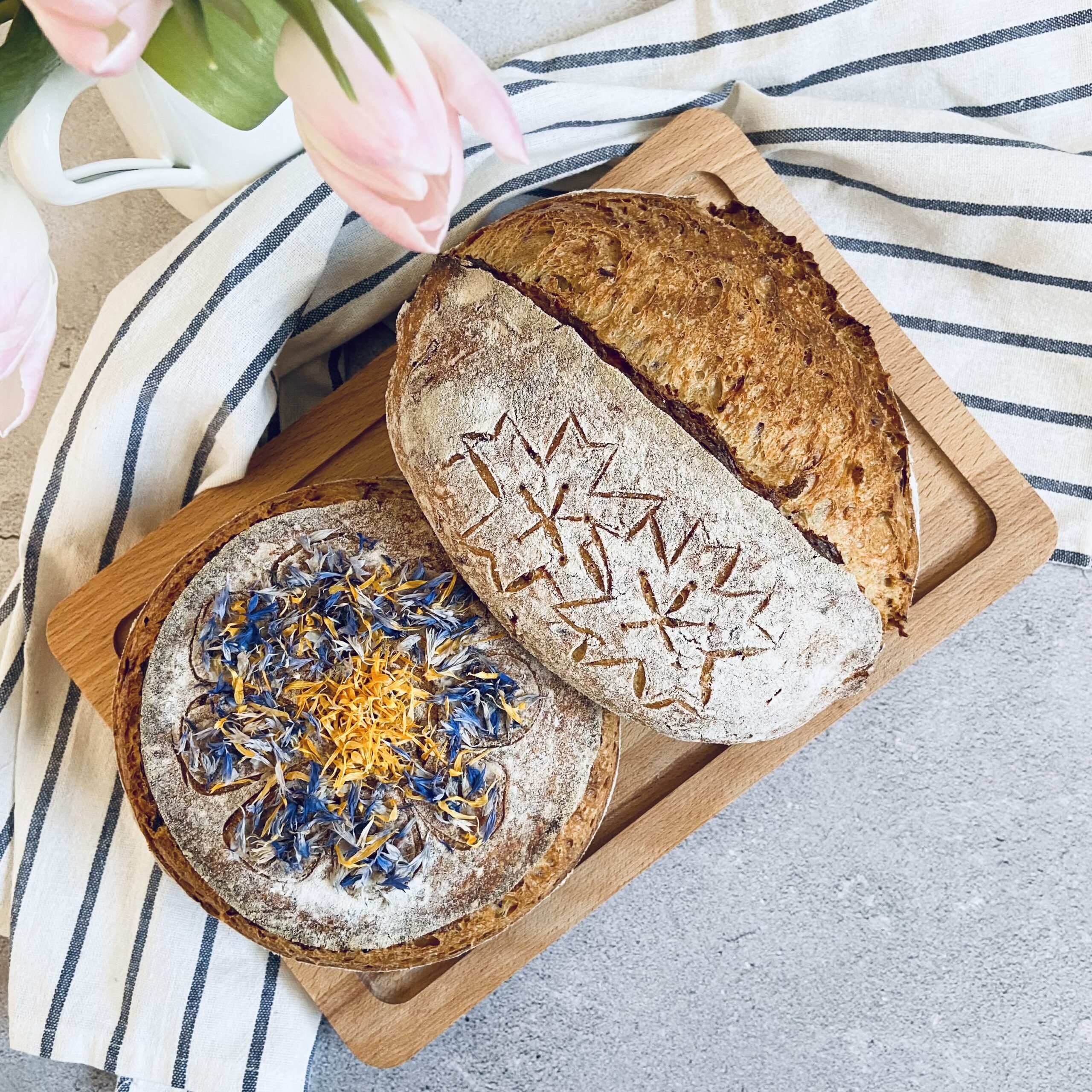 This spelt sourdough bread is specially moist and colorful, to greet the spring. Rolled oats and buttermilk help the crumb be softer and the purple carrots give it its special look. You can decorate it with dried flowers for even more spring feeling if you like.
Welcome, spring!
Some German Bloggers have come together to create special recipes to greet the spring. Each of us has created a recipe for a spring bread (or spring rolls). All breads are baked with rolled oats, hoeny and carrots; the rest is free to choose. Go have a look! (Note: the recipes are in German but you can use your favorite translator and it should work)
Decorate your bread using dried flowers
Your bread will get the spring look your are looking for (very beatiful also as a present) if your decorate it using dried flowers. So that the flowers glue to the bread you need to prepare a "glue". I like to use this recipe (in German). For it you need to dissolve 3g starch in 10g cold water. Then you add this mixture to 90g boiling water and stir well. Once your bread has completely cooled down after baking you can paint it with the "glue" and attach the flowers to it.
Only sourdough
This bread is only baked with the help of a sourdough starter (in my case made of spelt and 80% hydration). As the bread does not contain any yeast, it is very important that your sourdough is very active. It is therefore important that you feed your sourdough starter a coupple of day regularly. You will see a big difference in the crumb and dough stability. You can read more information about it in the Sourdough: create & feed procedure page.
If you have any question or would like to tell me how my recipe turned out, I would love it if you would leave a comment down below. Have fun and enjoy!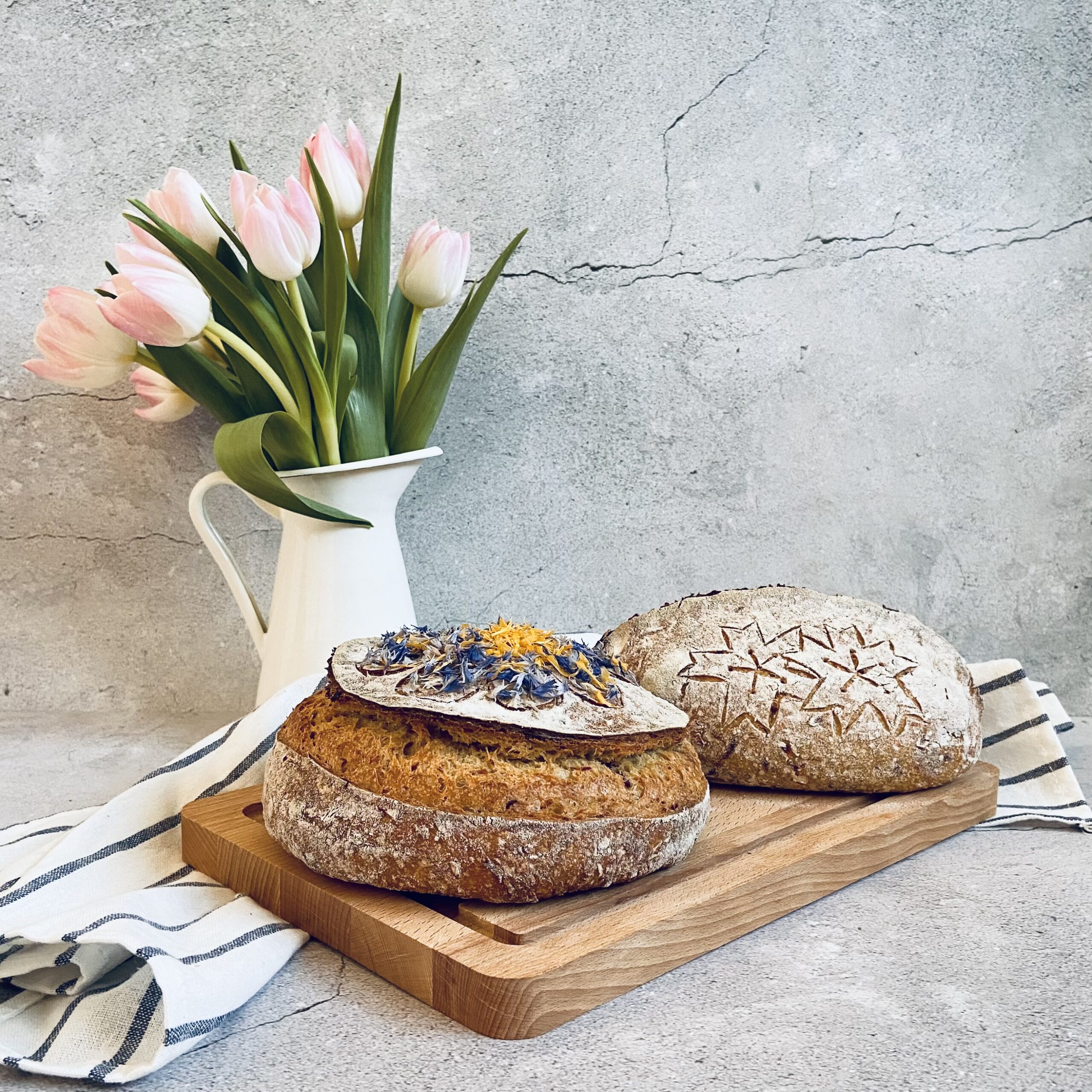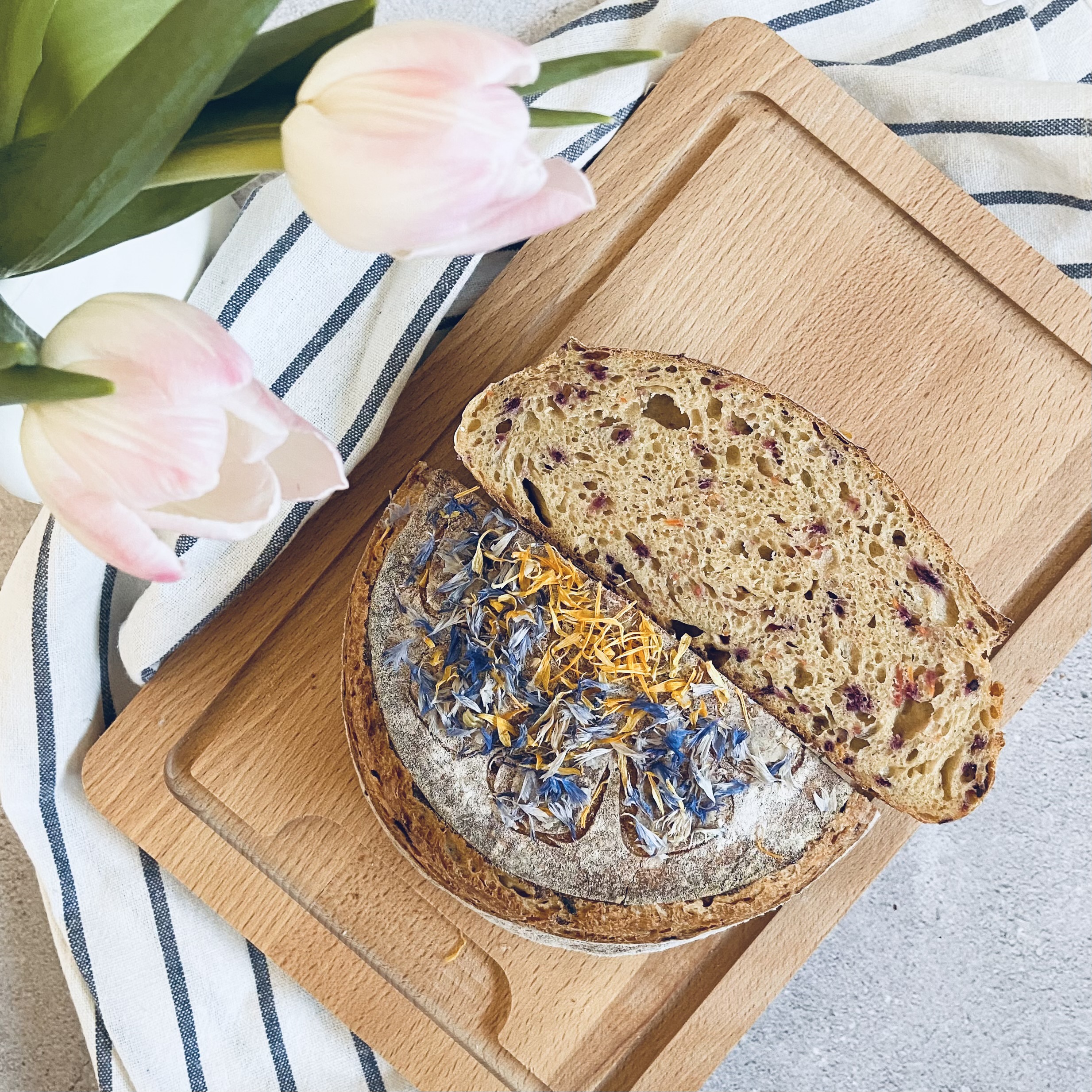 Time schedule
 1st day
20:00h Prepare flour custard and soaker
21:00h Place flour custard and soaker in the fridge
 2nd day
09:00h Feed sourdough starter
12:00h Prepare fermentolyse
12:30h Add salt & place dough in the proofing box
13:00h Coil Fold 1
13:30h Coil Fold 2
16:00h Shape and place in proofing basket
16:15h Cover proofing basket and place in the fridge
 Baking day
07:00h Heat oven
07:30h Bake bread
Spring bread (spelt sourdough bread with carrots, buttermilk and rolled oats)
This spelt sourdough bread is specially moist and colorful, to greet the spring. Rolled oats and buttermilk help the crumb be softer and the purple carrots give it its special look. You can decorate it with dried flowers for even more spring feeling if you like.
Ingredients
Flour custard
15

g

whole spelt flour

50

g

water
Sourdough starter
23

g

white spelt flour

23

g

sourdough starter

18

g

water

30°C
Soaker
32

g

rolled oats

32

g

water
Main dough
Flour custard

Sourdough starter

Soaker

228

g

white spelt flour

16

g

whole spelt flour

90

g

buttermilk

60

g

water

65

g

carrots

thinly grated

10

g

honey

7

g

salt
Instructions
Flour custard
For the flour custard cook the flour and the water together in a pot on medium heat until it reaches the consistency of a pudding. Use a spoon to make sure the custard does not burn on the bottom.

Let covered to cool at least 4 hours. If you prepare it the day before, keep in the fridge.
Sourdough starter
Dissolve the sourdough starter in the water and then add the flour. Mix everything until all the flour is wet and everything is mixed through.

Let proof 3 hours at 28 degrees. The sourdough should be active and it is better to use it young.
Soaker
Mix flakes and water and let rest covered. You can let it rest at room temperature if you prepare the soaker at the same time as the sourdough starter or in the fridge if you prepare it the night before.
Main dough & bulk fermentation
Mix all ingredients except salt and carrots and let rest 20-30 minutes (fermentolyse).

Add the salt and carrots. If using a kneading machine knead for a maximum of 1-2 minutes.

Place dough in an oiled proofing box and wait 30 minutes. Make a coil fold.

Then let further proof. The bulk fermentation (from the point you add the sourdough) takes 4 hours at 23°C. The dough should have doubled in volume, should fill full of air and it should not have started to deflate.

The dough temperature should stay all the time unter 24°C. If you see that the dough temperature after kneading or during the bulk fermentation is above 24°C place the dough 30 minutes in the fridge to reduce it.

Place the dough on a floured surface and shape directly. Place shaped dough in a floured banetton.
Final fermentation
I get the best results when I let the bread proof for 20 minutes at 23 degrees room temperature and then 14 hours (during the night) in the fridge. My fridge has a temperature between 5 and 8 degrees where I place my banettons. If my kitchen is warmer I reduce the 20 minutes proofing time at room temperature, if it is colder I let it ferment longer.
Bake
Preheat the oven with a cast iron pot at 250°C. This might take 30 minutes.

Turn the bread onto a baking paper, score and carefully place in the hot cast iron pot. Cover with the hot lid and place in the oven. Reduce the temperature to 230°C.

Uncover the lid a little bit after 12 minutes so that the steam releases.

Bake for another 12 minutes or until you are satisfied with the crust color.
Notes
If you do not own a cast iron pot or you want to bake more than one bread at a time, you can try to open bake. I often bake 2 or 4 breads at a time, so that I safe time and energy costs. I use the same baking temperature and times as given in the recipe. Do not forget to create steam when puting the bread in the oven.