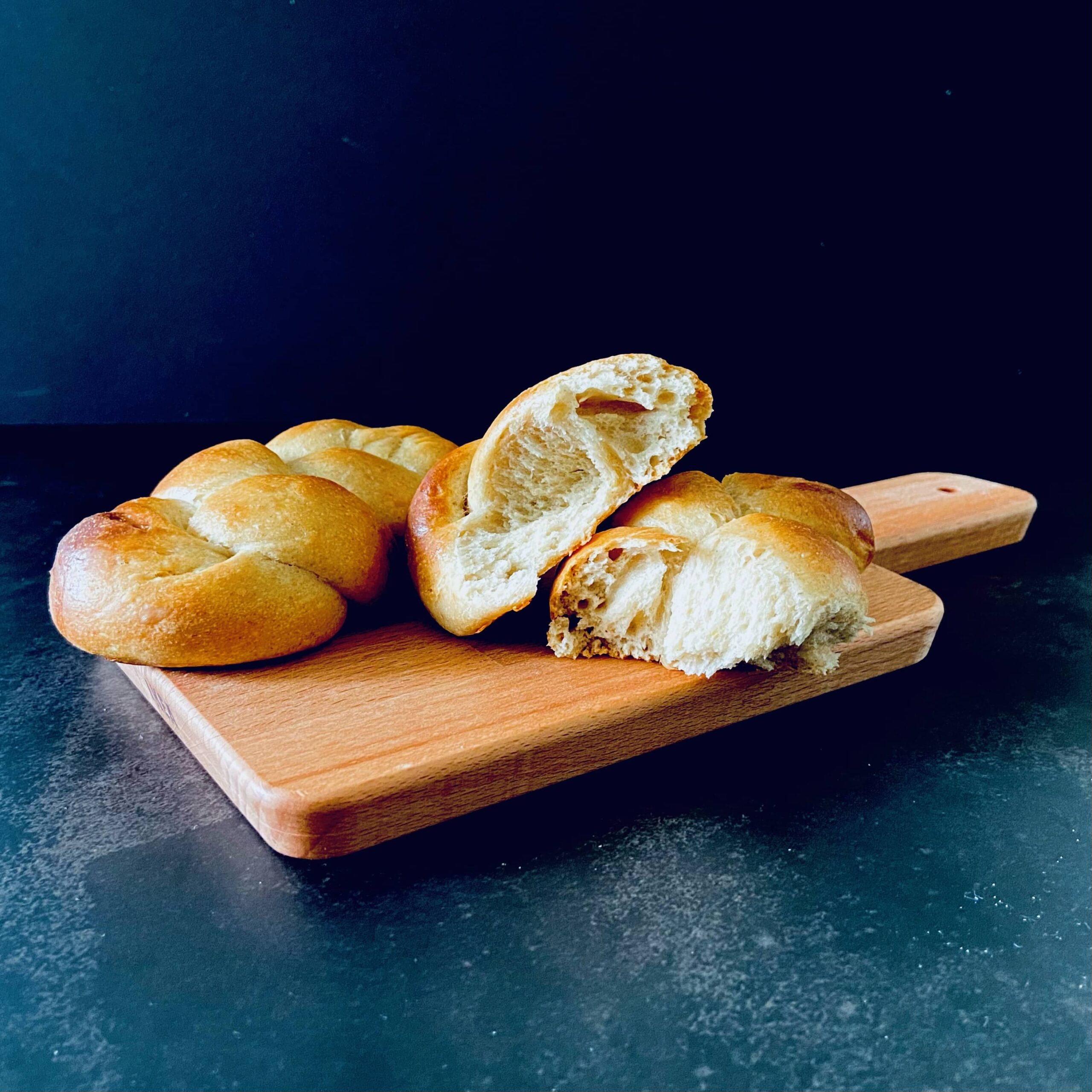 I searched a long time a recipe for challah which had everything I wanted: fluffy, on the next day it should not be dry, very tasty, egg free… at the end I wrote a recipe for it myself and after enough tests I am very happy with it. Fluffy and not dry thanks to a flour custard, tasty due to some whole flour and citrus zests, egg free and baked with spelt flour. Perfect!
The recipe is for about 400g dough. You can do different things with it. As an example I baked with the double amount of dough a 5 strand challah and 5 1 strand challahs (perfect for single portions).
Veganize the recipe
This recipe is very easy to modify to be completely vegan. As it does not contain any eggs already, you simply need to change the butter through a vegan alternative. Done!
Cold or warm bulk fermentation
This enriched dough works as well with warm fermentation at room temperature as well as with retarded fermentation in the fridge. This means that depending on when you would like to enjoy your nut rolls you can choose either one or the other way. I have however noticed that the option with the retarded fermentation in the fridge is a bit fluffier and more aromatic.
Practice braiding with ropes
I like to practice braiding challahs with ropes. This way I finally decided to try a 5 strand challah. After practicing some times with the ropes it worked directly with the dough. It is perfect to practice a couple of times before you take over the dough.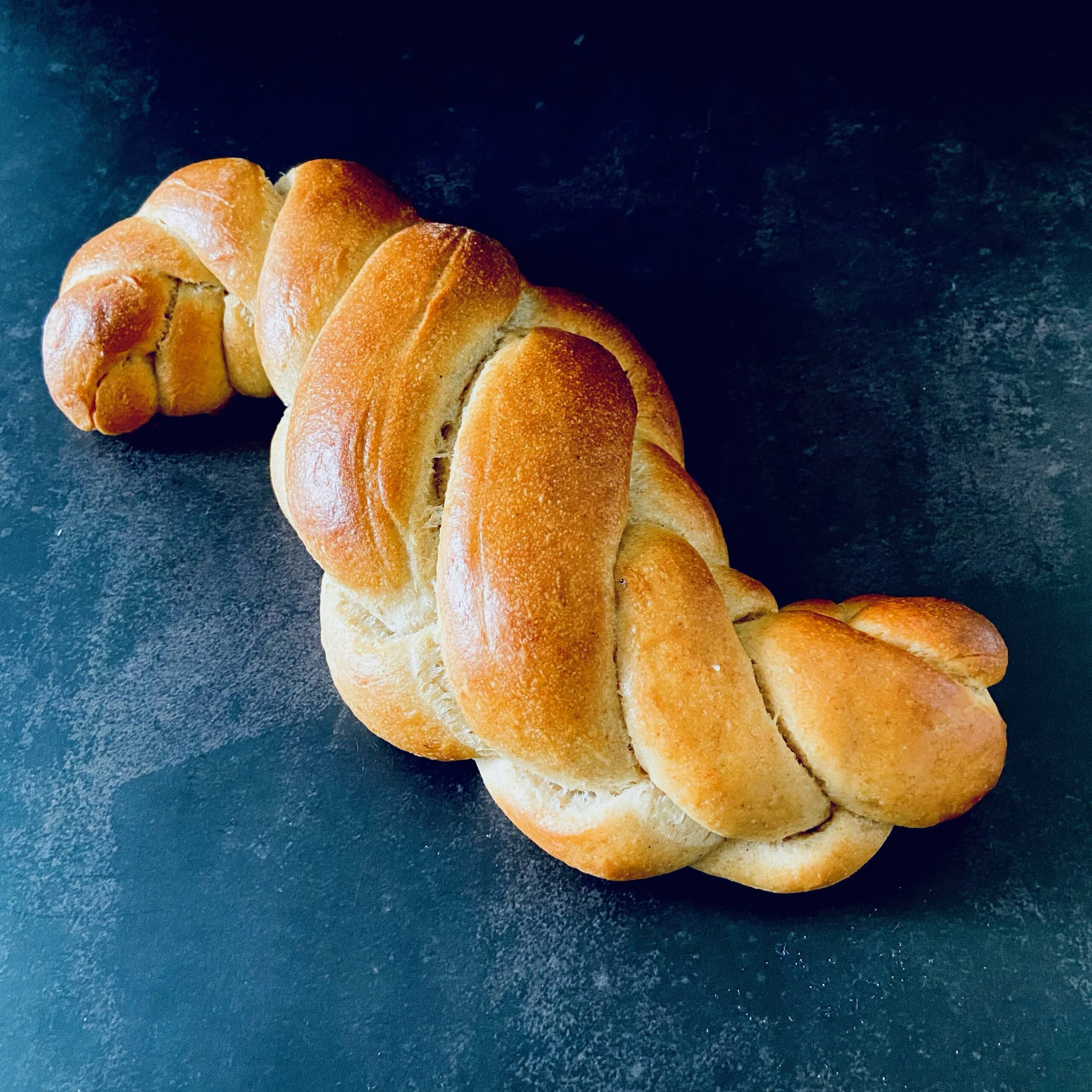 A special 3 strand challah
If you find 5 strand challahs and other variations to be too complicated, but you would like to try something else rather than the traditional 3 strand challah here you have a tipp from me. Braid a normal 3 strand challah and then roll it as a snail to get a beautiful variation.
Have fun braiding!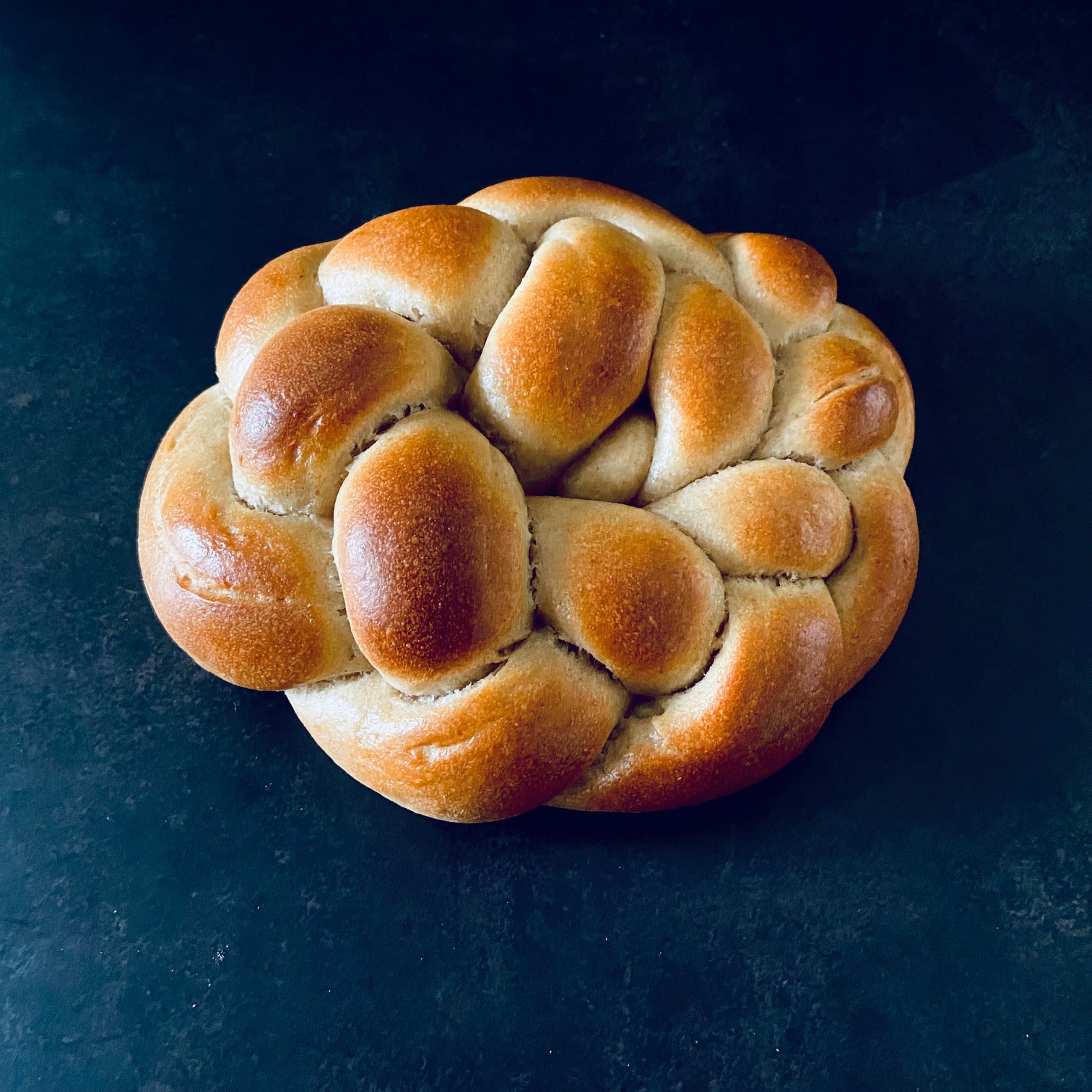 There are several tutorials for this recipe as Instagram-Reels:
 Time schedule 1
 Day before
15:00h Feed sweet sourdough & prepare flour custard
18:00h Knead main dough
21:00h Place main dough in the fridge
 Baking day
07:00h Shape challah
08:30h Bake challah
 Time schedule 2
 Baking day
08:00h Feed sweet sourdough & prepare flour custard
11:00h Knead main dough
15:00h Shape challah
16:30h Bake challah
Spelt challah with 30% whole spelt flour (egg free)
A fluffy challah, which is not dry the next day and very tasty due to the usage of some whole flour and citrus zests.
Ergibt:
1
challah à 550g aprox.
Ingredients
Flour custard
26

g

whole spelt flour

80

g

milk
Main dough
flour custard

132

g

white spelt flour

53

g

whole spelt flour

140

g

sweet sourdough

alternative: 130g Lievito Madre + 10g sugar

62

g

milk

14

g

sugar

1/4

zest of an orange

1/4

zest of a lemon

6

g

salt

5

g

fresh yeast

50

g

butter
Instructions
Flour custard
For the flour custard cook the flour and the milk together in a pot on medium heat until it reaches the consistency of a pudding. Use a spoon to make sure the custard does not burn on the bottom.

Let covered to cool at least 4 hours. If you prepare it the day before, keep in the fridge.
Main dough
Knead all ingredients together until you can do a window pane test. When kneading spelt it helps to make some pauses in between kneading ("interval kneading").

OPTION 1: The bulk fermentation takes about 4 hours at a room temperature of 23°C. The dough should at least double in size, fill full of air and not have started deflating yet.

OPTION 2: Your can also place the dough in the fridge over night after proofing it for about 3 hours at room temperature (dough has nearly doubled in size). If you choose this option, please let the dough come to room temperature for about 30 minutes before continuing with the next step.
Final fermentation
The final fermentation takes 1,5 hours at room temperature (23°C). The challah must double in size. It is important to make sure that it does not dry out, so cover or place in the oven while off.
Bake
Brush challah with milk before baking.

Bake at 210°C (convection oven) and then reduce to 190°C without steam until you like their color. It can take between 20 and 30 minutes.

After taking the challah out of the over brush again with milk while warm.