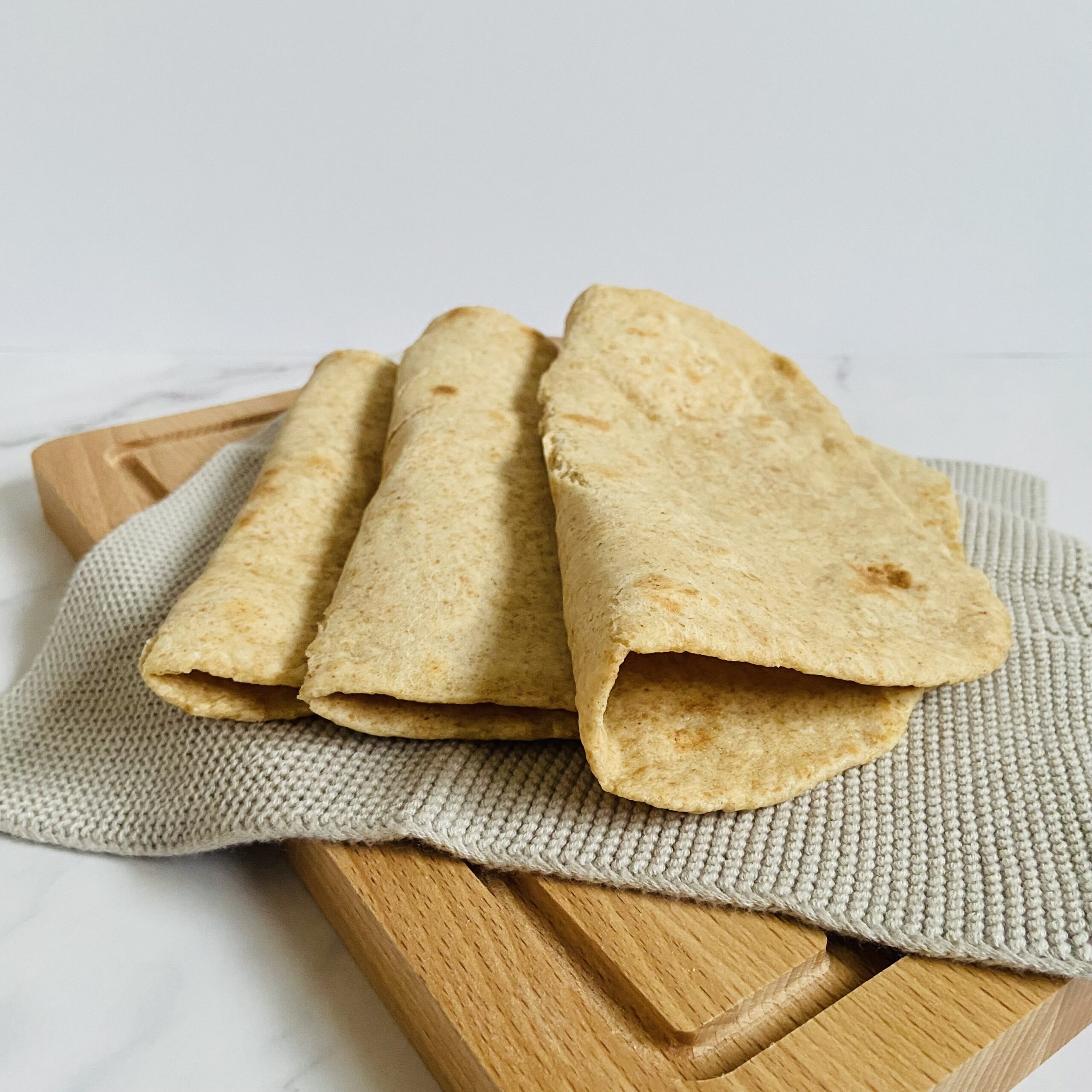 My tortillas are made of spelt flour and get fermented for a better digestibility. I like to use a mix of whole and white flour for it. I have also tried it with different ancient grains like a yellow wheat available in Germany and I love them.
You can use active sourdough starter or sourdough discard (not older than 2 weeks) for this recipe. Thanks to the fermentation the tortillas are easier to digest and they get a lot of bubbles when cooking them. 
Tortillas should be soft and flexible in my opinion. The trick here is to place the tortillas on a dish and cover them immediately with a kitchen towel. The own steam helps them stay soft and pliable so that you can fill them without breaking them.
The fermentation temperatures and times are flexible
The tortilla dough can be kept in the fridge after some time at room temperature (make sure they have started to grow). They can spend in the fridge a maximum of 12 hours. This is very convenient for the week, when you need to do other things in parallel.
If you have any question or would like to tell me how my recipe turned out, I would love it if you would leave a comment down below. Have fun and enjoy!
 Time schedule 1
Baking day
07:00h Prepare dough
08:00h Place dough in the fridge
17:00h Divide dough and shape into balls
18:00h Roll out tortillas and bake
 Time schedule 2
Baking day
15:00h Prepare dough
17:00h Divide dough and shape into balls
18:00h Roll out tortillas and bake
Spelt sourdough tortillas (wraps)
Soft tortillas made of spelt flour and fermented with the help of sourdough. Soft, flexible and aromatic.
Ingredients
200

g

white spelt flour

200

g

whole spelt flour

220

g

Lievito madre

freshly fed or discard *

240

g

water

20

g

olive oil

10

g

salt
Instructions
Prepare dough
Knead all ingredients together. Place in a bowl and cover.
Bulk fermentation - OPTION 1
Let kick start the fermentation 1 hour at room temperature.

Place in the fridge for a maximum of 12 hours.
Bulk fermentation - OPTION 2
Let ferment at room temperature until the dough doubles its size (2 hours aprox.).
Final fermentation
Divide into 10 pieces and roll into balls.

Let double in size at room temperature 1 hour approximately.
Shape and cook
Roll the tortillas very thin (1-2 mm).

Cook in a very hot pan. As soon as the first bubbles appear, turn around.

Cook a couple of minutes more. Then remove from the pan and place on a dish and cover with a kitchen towel.
Notes
*This recipe also works perfectly if you replace the 230g Lievito Madre with 300g sourdough (at 100% hydration). You should then only use 160g water in the main dough.