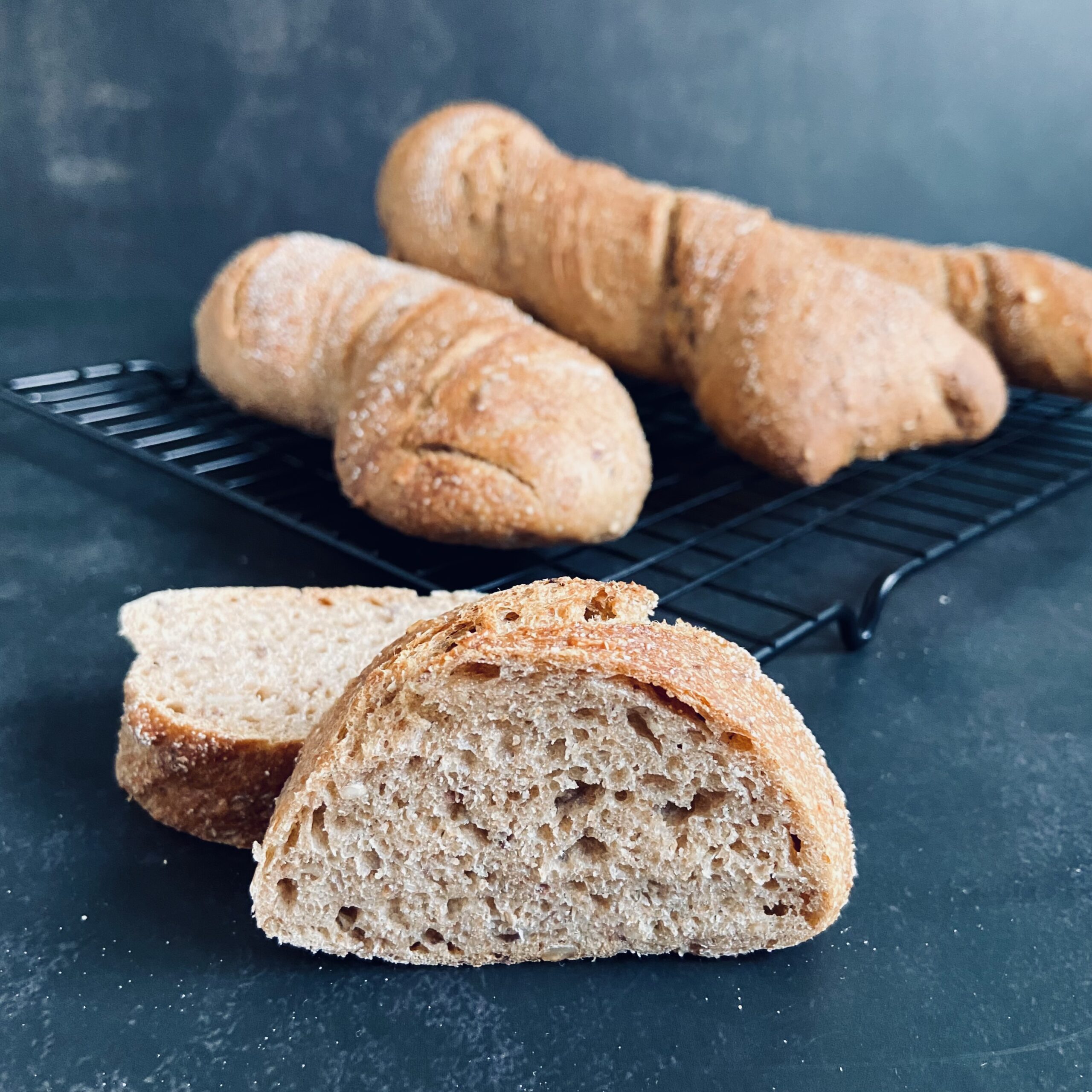 After the Easter holidays I needed something more wholesome but at the same time light. I wanted a recipe with whole flours and seeds, which reminds of the summer. And so I created this dark twisted breads. They are made with whole spelt and whole emmer flour and are made even more wholesome by the addition of sesame, sunflower and flax seeds.
Fermentation over night in the fridge and no banneton needed
This recipe should also be easy and flexible: it is a recipe which performs the final fermentation in the fridge and it is very easy to shape. You do not need any banneton for this twisted breads, so that they are perfect for beginners.
You can choose to make use of your sourdough discard or bake it without any sourdough
You can include some of your sourdough discards in this recipe, what is perfect to avoid waste. I have added comments in the recipe of what you need to change in case you want to include some Lievito Madre or sourdough starter discards, or even if you don't have any sourdough and want to bake it. Just as you need it!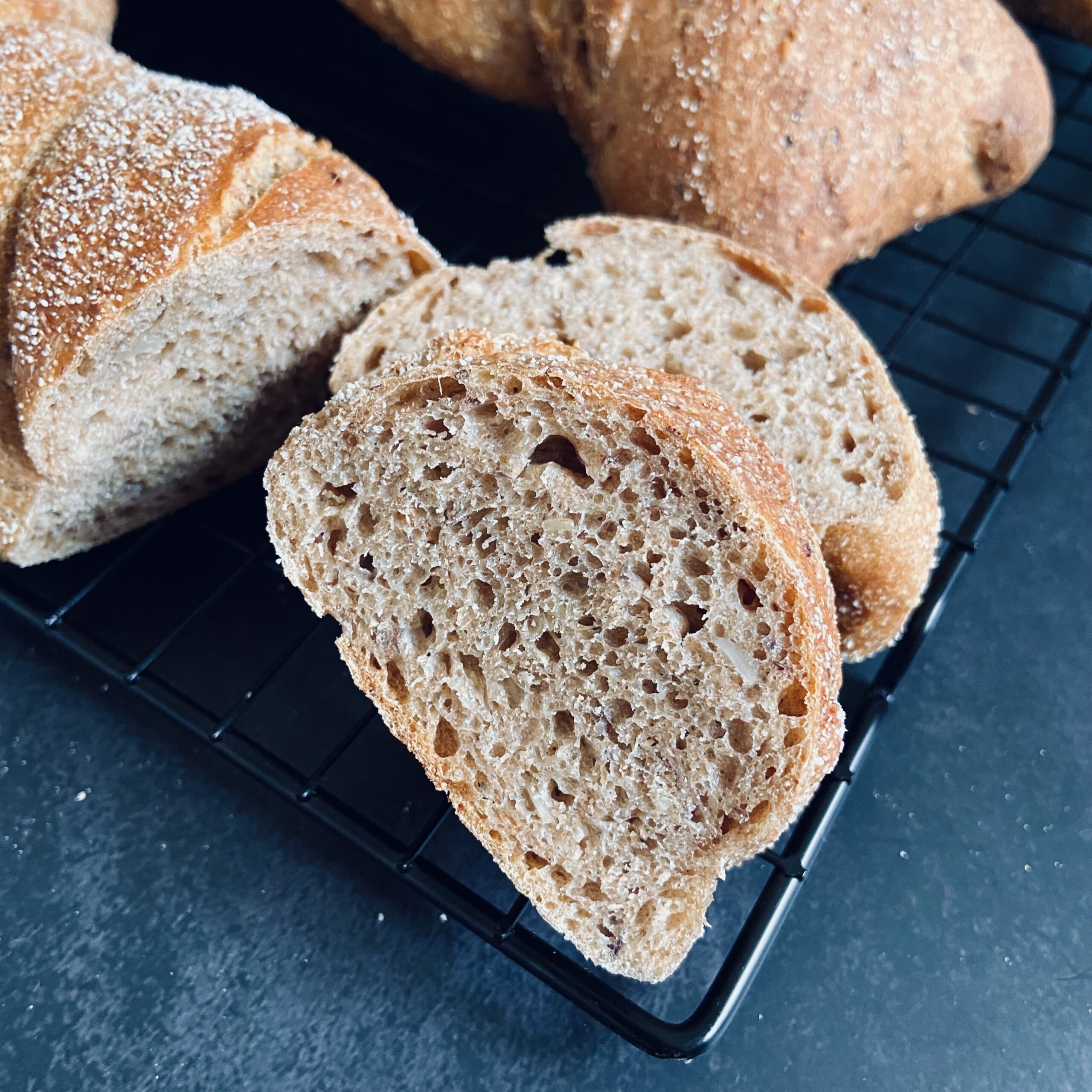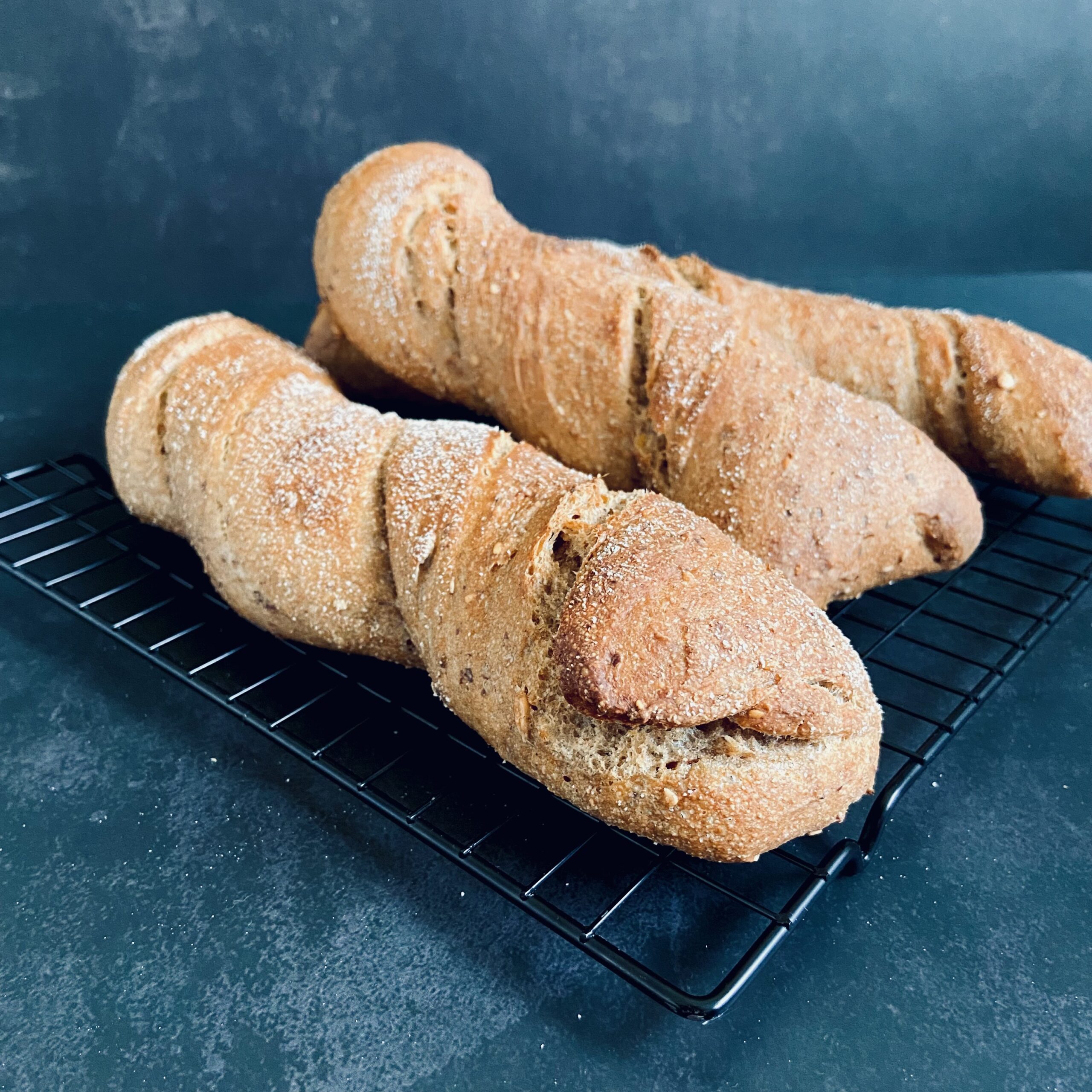 Do you need ideas of what to do with your sourdough discards? Then have a look at the category breads using sourdough discard and sweet recipes using sourdough discard.
If you have any question or would like to tell me how my recipe turned out, I would love it if you would leave a comment down below. Have fun and enjoy!
 Time schedule
 Previous day
7:00h Prepare soaker and place in the fridge
20:00h Prepare main dough without salt
20:20h Add salt and finish kneading
21:30h Place dough in the fridge
 Baking day
07:00h Shape twisted breads
07:30h Bake first 3 breads
08:00h Bake last 3 breads
Dark twisted bread (for beginners, using sourdough discard)
This dark twisted breads are made of whole spelt and whole emmer flour and are even more wholesome thanks to the addition of sesame, sunflower and flax seeds. The dough spends the night in the fridge what is very convenient. You will need no banneton for this recipes, so it is specially suited for beginners.
Ergibt:
6
twisted breads of 250g aprox.
Ingredients
Soaker
15

g

flax seeds

crushed

15

g

sesame seeds

15

g

sunflower seeds

70

g

water
Main dough
570

g

whole spelt flour

80

g

whole emmer flour

240

g

Lievito Madre from the fridge

alternative: 170g white spelt flour + 70g water or 340g sourdough from the fridge

490

g

water

if using sourdough use only 390g of water

4

g

fresh yeast

24

g

salt
Instructions
Soaker
Mix all ingreadients together and let soak minimum 2 hours. If you prepare it 4 hours or earlier than the main dough, place the soaker in the fridge.
Main dough & bulk fermentation
Mix all ingredients except the salt and let rest 20 minutes.

Add the salt and knead for furhter 5 minutes or until the dough is well kneaded.

Place in an oiled proofing box. Let kick-start fermentation for 1 hour at room temperature. Stretch and fold at the end.

Place the dough in the fridge. The dough should double in size.
Shape & final fermentation
Spread some spelt semolina (alternative: rye flour) on your working surface. Divide the dough into 6 long parts.

Twist a couple of times each dough and place on a baking paper. I used 2 baking papers and placed 3 breads on each one.

Let proof 30-60 minutes at room temperature. Preheat the oven at the same time.
Bake
Bake constantly at 250°C for 8 minutes with steam and 8 minutes without steam.