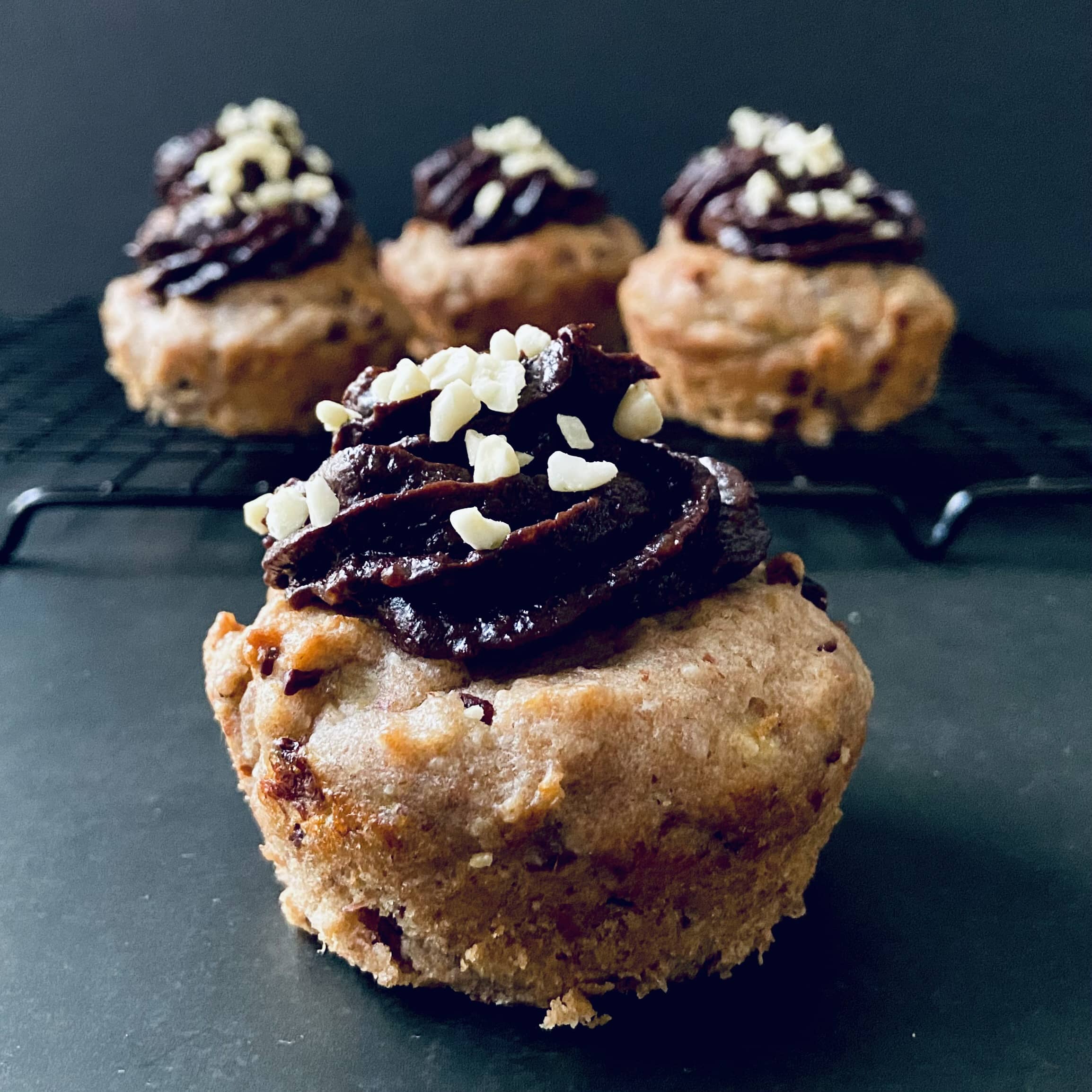 These Almond-Chocolate-Cupcakes are very juicy, melt in your mouth, contain no additional sugar (are only sweetened with bananas and dates), are baked usind whole spelt flour and almond meal and are vegan. Cacao nibs round it up!
Bananas and dates as industrial sugar alternatives
Bananas are the perfect alternative to industrial sugar in cookies, cakes and muffins. They make everything juicy and are very easy to digest. Additionally one can use too ripe bananas, so this recipe is perfect to avoid throwing away food.
Dates are also very good for digestion, have a lot of enegery and contain a lot of antioxidants. When eating dates our sugar level in blood increases slowlier as with industrial sugar.
Can I only bake the muffins without topping?
Sure! However I must admit that the muffins alone are not very sweet. I would therefore add 3-4 dates. The best way would be to puree them wiht the joghurt and add them then to the bananas and oil.
I hope you enjoy my recipes without industrial sugar!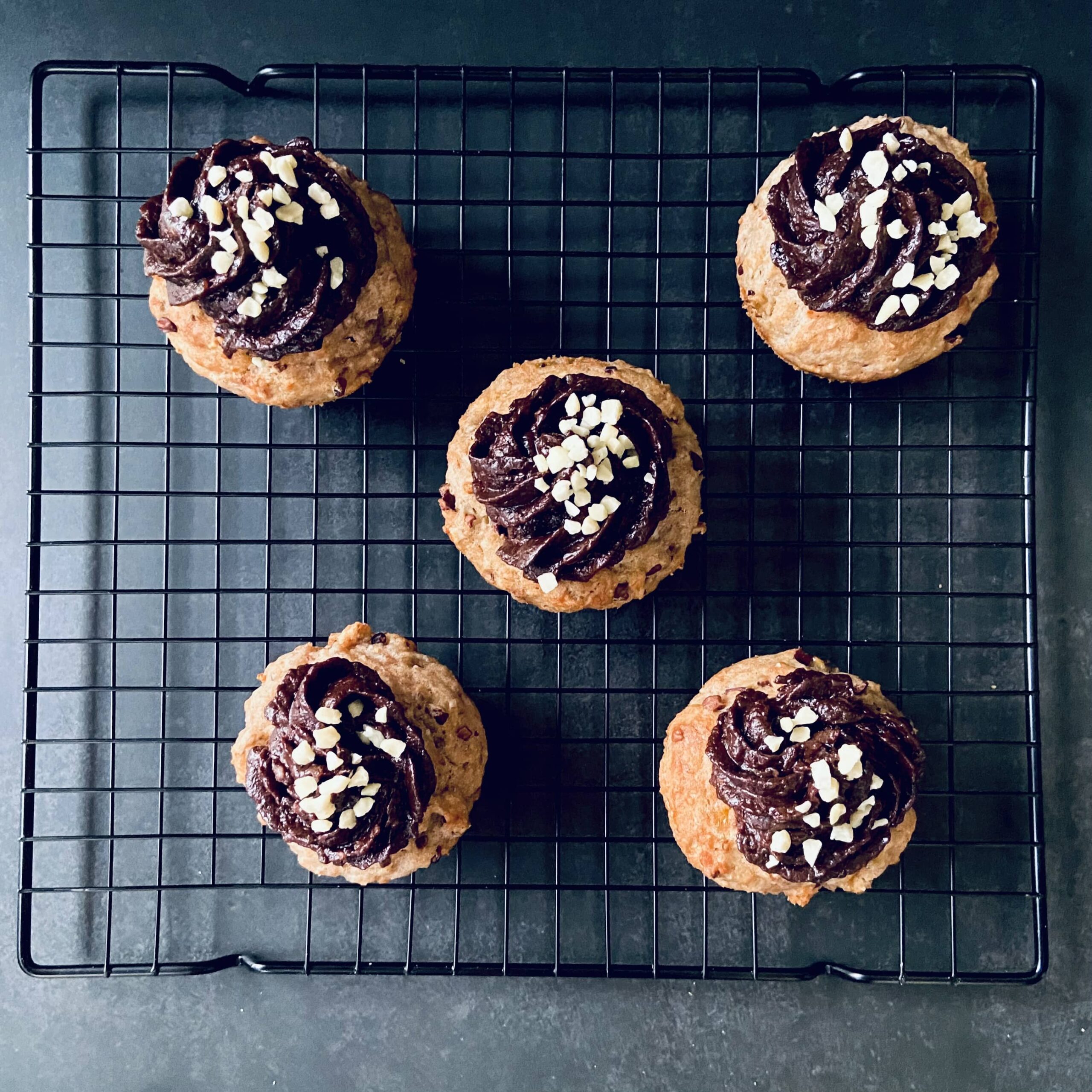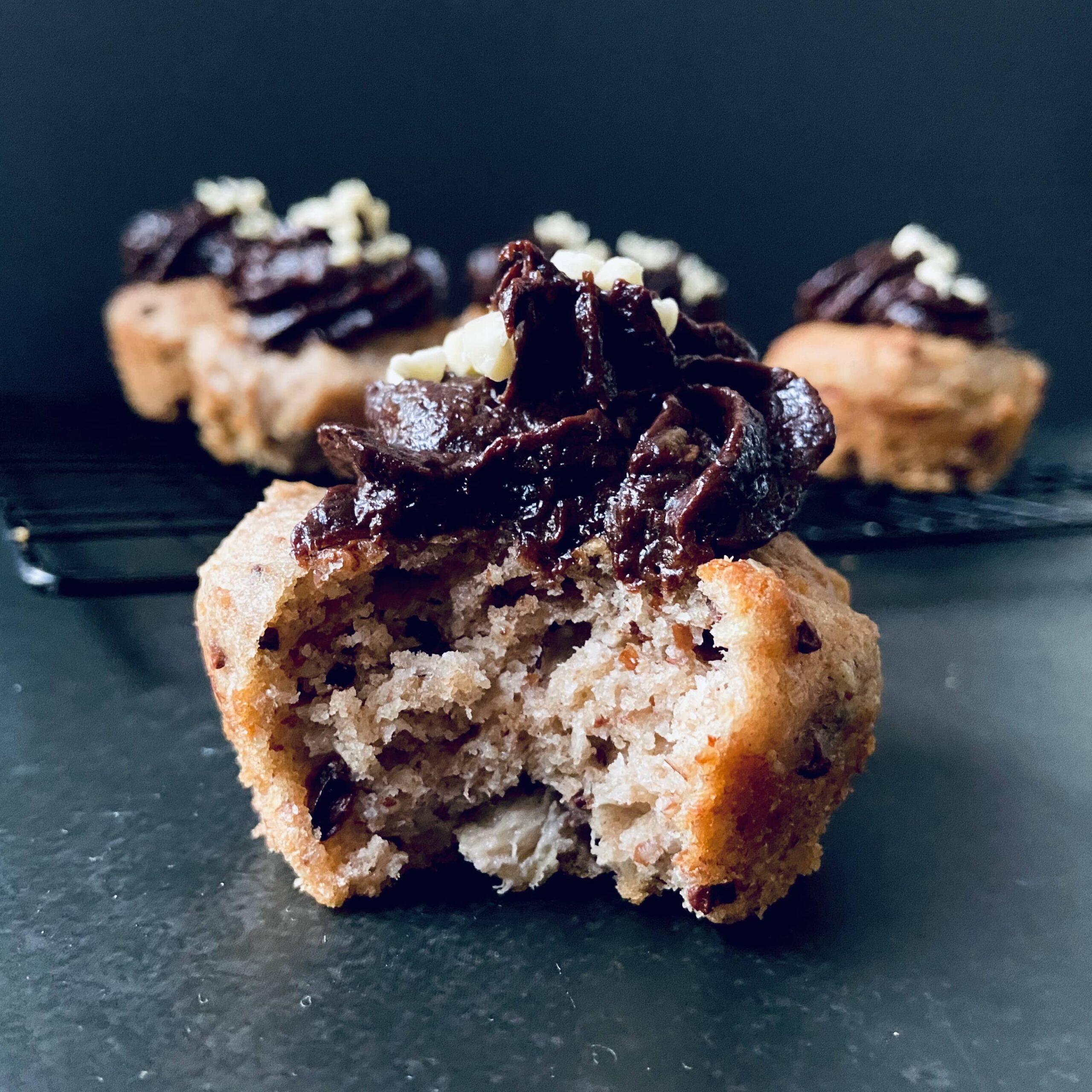 Almond chocolate cupcakes (vegan, additional sugar free)
These Almond-Chocolate-Cupcakes are super juicy, melt in your mouth, additional sugar free (sweetened with bananas and dates), are baked with whole spelt flour and ground almonds and are vegan. Cacao nibs round up all this goodness!
Ingredients
Muffins
3

ripe bananas

100

g

sunflower oil

170

g

yoghurt

250

g

white spelt flour

50

g

ground almonds

1

Tbsp

baking powder

40

g

cacao nibs
Topping
150

g

dates

18

g

cacao powder

1/2

tsp

cinnamon

30

g

almond butter

2

Tbsp

almond milk
Instructions
Muffins
Grease a muffin tin with coconut oil and heat the oven at 180°C.

Peel bananas and mash with a fork.

Mix with yoghurt und sunflower oil.

In a separate bowl mix flour, almond meal, baking powder and cacao nibs.

Add the dry to the wet ingredients and mix well.

With the help of a spoon or an ice cream spoon divide the dough into the muffin tins.

Bake in the preheated oven for 20-25 minutes until a toothpick inserted in the middle comes out clean.
Topping
Soften the dates by placing them 20 minutes in a bowl with warm water. Remove water before continuing.

Puree dates, cacao, almond butter, cinnamon and almond mix. Add more almond milk in case the created paste is to thick to pipe.

Pipe the paste on top of the muffins.

Decorate with crushed almonds and/or cacao nibs.